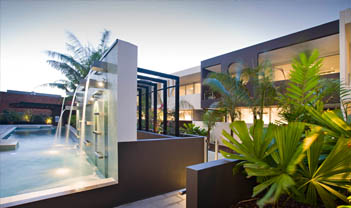 Creating the perfect pool isn't something you can do overnight, in fact, we've been honing our skills for four decades.
Company founders, Ian and Margaret Hodge, built their first pool back in the 70s, in an era when bold architectural expression was truly celebrated.
It paved the way for unique designs that reflected the location, lifestyle and personality of each pool's owner.
By the early 80s, Ian and Margaret were watching the Gold Coast transform from a quiet coastal town into Australia's number one leisure destination.
As the high-rise hotels and apartments went up along the coast, it was time to gear up for larger projects. And so, in 1983, Surfside Pools Commercial was born.
A new generation of family members joined the team in the 90s, bringing new skills to the company and helping embrace the latest industry trends and technology.
Today, the unwavering efforts of this tight-knit team have made Surfside Pools one the most respected names in commercial and luxury residential pools, spas, lagoons and water features.
From humble beginnings, the company now has world-class clients that span Australia and extend overseas.
While Surfside has grown dramatically in resource and capability over the decades, it is still a family business, with personal care and commitment at every stage of every project.
It's by continuing this proud tradition that we have strong future ahead.
Please contact us if you have an enquiries.